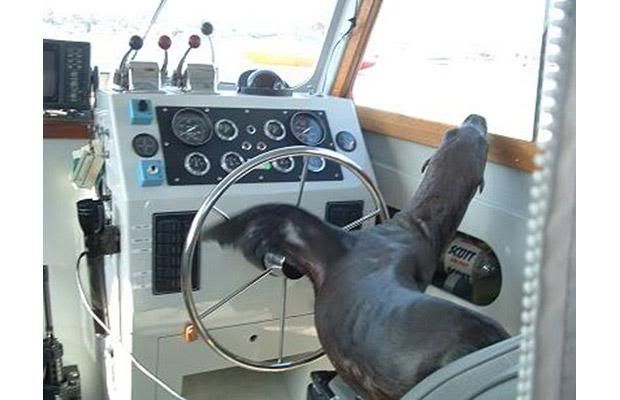 Sea lion at the controls of a Orange County sheriff's Department patrol boat

Sheriff's Department officers in California got more than they bargained for when they took a sealion aboard their patrol boat. They were forced to vacate the cockpit when the animal started climbing around the helmsman's seat and control console, and it managed to turn the steering wheel, sound the horn and put the throttle into reverse.
It took more than an hour and several sprays with a hose to persuade the sealion to leave the boat and return to the sea. The incident began when the Orange County Sheriff's Harbor Patrol fire boat was called to pontoons at Newport Beach to deal with the sealion which was reported to be acting aggressively towards children.
Attempts to get the animal back in the water failed, so the officers took it aboard with the intention of releasing it further from the land.
Sea lions are smart creatures and this attempt to take over the boat just proves their superior intelligence. He obviously thought the crew weren't experienced enough with matters concerning the sea so he should take over the controls.
Maybe he was trying to kidnap them to take them to his secret hideout where he would torture them until they agreed to their demands to give rights to sea lions.
Motor Boats Monthly, 1 July 2009
http://www.ybw.com/auto/newsdesk/2009060119